ReadSpeaker webReader is a text-to-speech tool we have available within Canvas. ReadSpeaker can read the content of web pages out loud, provide definitions to works, allow highlighting of text and translate to a number of languages.
To activate ReadSpeaker:
1. Click on the tab on the left hand side of the page in Canvas.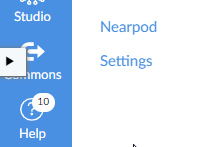 2. A small grey player will appear.

3. Highlight text you want read aloud, and select Listen, Dictionary or Translate.

The following video shows the process of using Readspeaker.
Some of the more advanced settings are shown below is a zoomed in view of the ReadSpeaker webReader utility.