At PALCS, our purpose is to provide our students with a learning environment that is "academically challenging…and individually designed for each child's needs." We employ various methods to ensure that this purpose is achieved. One method is to enhance our curriculum and educational environment with tools provided by third party vendors. These vendors provide dynamic and robust web-based software and services that are integrated within our curriculum, which is delivered through our learning platform. Often these providers enable students to access content and interact with educational material through an individualized user account.

We use educational tools designed for the K-12 environment. Prior to entering an agreement with a company, PALCS evaluates the company, its terms of service, and privacy policy. PALCS also considers how the any student data will be digital stored by the company. When vetting new tools, PALCS seeks out companies that have signed the Student Privacy Pledge which is a collection of commitments surrounding the collection and handling of student data and to encourage service providers to more clearly articulate these practices. Learn more about the Student Privacy Pledge here: https://studentprivacypledge.org/
Also PALCS is guided by three major U.S. federal laws with regard to student online safety and privacy and also digital storage of student records. The educational vendors we partner with are required to adhere to the same laws. They are FERPA, COPPA, and CIPA.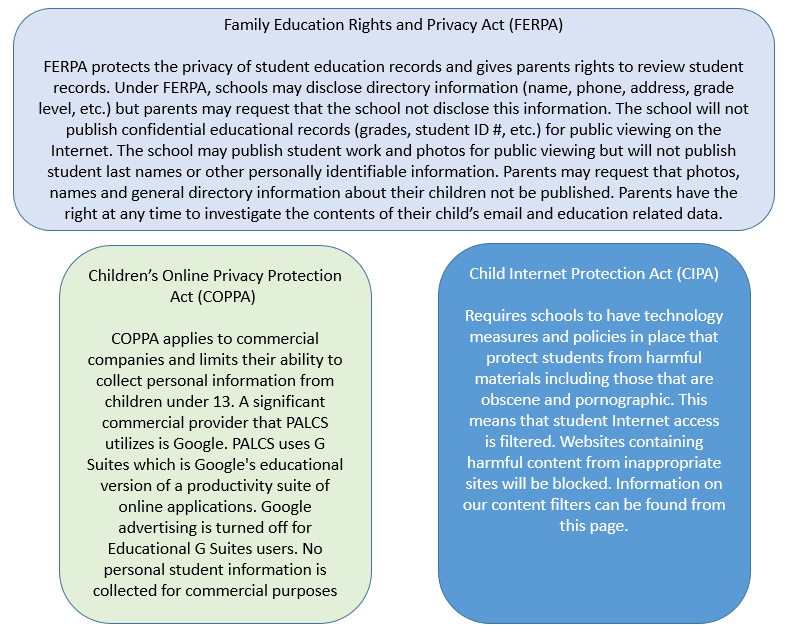 The following are privacy policies and terms of service for major sites and programs used at PALCS.
---
Achieve3000

Apple




iRead & ThinkCentral


BrainPop

Canvas

CareerCruising

Code.org

Code Combat




ConnectEd (McGraw Hill)

DiscoveryEducation

Dreambox

EBSCO Publishing

edInsight (OnHand Schools)


ExploreLearning Froguts

Flipgrid


G Suites

Hopsctoch

Houghton Mifflin Harcourt

iBoss

IXL




Jamf




Kahoot

Khan Academy




Kodable




Learning A-Z

Microsoft

Nearpod

NoodleTools Noteflight
Padlet


Pearson

Quizlet
ReflexMath

RosettaStone

Scratch/Scratch Jr.


Securly




Study Island & Exact Path (Edmentum)


Tynker

Voicethread

Zoom